"
Tekad merupakan sumber motivasi bagi kemajuan dan kesuksesan! Mereka yang memiliki tekad yang kuat, dia bisa menciptakan apa yang tidak mungkin menjadi mungkin
"
-Andrie Wongso-
Sudah lama penulis dapat kiriman email secara rutin dari
Gizmodo.com
(salah satu blog terbesar di dunia, yg mengulas masalah seputar gadget dan budaya digital). Hanya sesekali tertarik untuk membaca, kalau liat judulnya bagus. Selebihnya banyak email yg di-delete, he3. Nah kebetulan dapat kiriman email yang cukup menarik perhatian. Dibaca sampai habis. Ringkasnya, bagaimana seorang remaja murid SMA bisa mendapatkan 65.000 dollar dari mengutak-atik (hack) iPod. Kisah bermula dari rusaknya iPod miliknya. Karena tdk sanggup membeli iPod baru muncul keinginan utk memperbaiki sendiri gadget tersebut hingga akhirnya mengantarkannya ke bisnis utak-atik iPod dan melayani customer dari negara2 lain yang jauh. Dalam kurun waktu 2005-2008 dia bisa menghasilkan $65.000.
Biar asyik baca aja sendiri ya kisahnya, sekalian mengingat2 kembali pelajaran bahasa Inggris di sekolah/kursus dulu :) (versi web nya coba cek disini
http://www.gizmodo.co.uk/2012/05/hacking-the-ipod-how-i-earned-40k-in-school-off-busted-apple-products/
)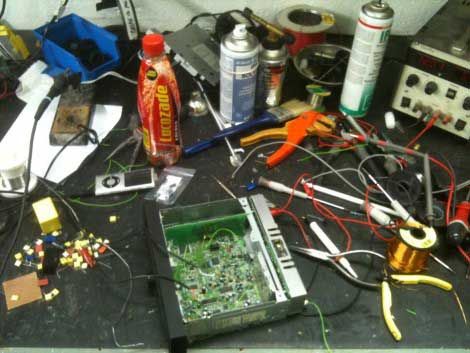 *gambar hanya sebagai ilustrasi :)
"
Hacking the iPod: How I Earned $65K in High School Off Busted Apple Products
After a long day at school, the house phone rang and my mother answered. It's Apple and they want to have a word with you, she said. At the time, I was 16 and I had been hustling iPod parts to all parts of the world.
"I'm not telling you this as an authority but as say, an uncle figure: you need to stop what you're doing," said the Apple attorney on the other end.
When I was 15, my 3rd generation iPod had broken. This was a tragedy as music has been a huge part of my life for as long as I can remember. With no funds to purchase a new iPod, I was determined to fix it. After scouring eBay, I purchased a logic board and read countless tutorials on how to crack open my iPod and surgically replace the logic board. The operation was successful and I felt triumphant – functioning iPod, new awesome skill as iPod-surgeon, and none of my music was lost. I grew very curious as to how frequently out-of-warranty iPods malfunctioned and simply required a new part or two.
Everyone knows that out-of-warranty Apple repairs are absurdly expensive, often costing as much as a new iPod. I found that 2nd and 3rd generation iPods broke a lot and people rarely bothered fixing them. Word spread amongst my friends that I could fix broken iPods and soon after, people flocked to me to fix their iPods. The supply for parts was scant and as a result, prices were very high. I started buying broken iPods in bulk and salvaging the functioning parts, accumulating a surplus of parts to fix friends' iPods.
A hobby and good deed turned into an obsession and I started buying huge bulk orders of broken iPods and selling the parts on eBay. By the time I was 17, I had purchased over a hundred iPods, turning a spare room in my house into an iPod graveyard. From 2005-2008 (15-18), I had taken in more than $65,000 in revenue from my iPod and eBay ventures before I could even legally hold a Paypal account. I saw the 3rd generation evolve into the 4th generation and then the 4th generation color, and eventually the beautiful 5th generation, arguably the biggest leap in technology of any of the iPod generations.
Generation after generation, as the components shrank, repairs became harder and harder. I hated working on iPod Minis. Nanos? Forget about it. The parts became so integrated and hard to replace that the market for parts deteriorated. I had a good 2-year run but I wasn't making much money off of parts anymore. Instead of buying and selling parts, I started to buy broken iPods that were still under warranty, mailing them back to Apple and receiving brand new refurbished iPods for the cost of shipping.
This was the most lucrative venture of all, but it was the primary reason why an Apple lawyer had called me that day. Understandably so, they did not like me taking advantage of their transferrable warranties. They knew that I was a kid and let me off the hook but it hurt to have Apple crush your income stream, the income that had allowed me to avoid a high school job while my cohort was slaving away at part time jobs.
I learned so much peddling iPod parts. From customer service, to accounting, to shipping logistics, it was my foray into how a business functioned. I made a lot of silly mistakes but they were all part of the learning experience. My profit margin was not monstrous but the hard work and the lessons learned were invaluable. I differentiated myself by offering international shipping, a service that few sellers bothered with at the time. Receiving orders from China, Eastern Europe, Australia, and numerous far flung regions was incredibly exciting and eye-opening.
The power of e-commerce allowed a high school student to offer an affordable way for someone across the world to repair their iPod. It fascinated the hell out of me. Once you experience this power first-hand, it becomes addicting. The internet had won me over one iPod at a time.
"
$65.000 kalo dikurs 9000 = rp 585 Juta! Wew :D Barangkali bisa menjadi bahan inspirasi buat kita semua :)